Products
P-204 Extraction Agent
Chemical Name: Di-(2-ethylhexyl) phosphate
Constitutional Formula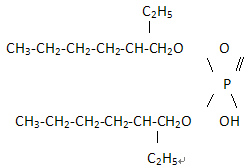 Molecular Weight:322.4
| | |
| --- | --- |
| Item | |
| Content, % | ≥95 |
| Specific Weight | 0.970~0.972 |
| Refractive Index | 1.4410~1.4420 |
| Viscosity | 36±3 |
| Flash Point, ℃ | ≥100 |
| Phase Separation Speed, (m) | ≤2.5 |

Properties: colourless or yellowish transparent oily liquid; soluable to alcohol, acetone and some other organic solvents; not soluable to water; burning point: 233℃.
Uses: widely adopted in separation for all kinds of Rare Earth, Nickel, Cobalt and other metals.
Package: 200kg\180kg plastic-lined iron or plastic barrel or according to specific demand.
Storage and transportation: handle with care; keep upward; deposit in airy and dry warehouse.