Products
Iso-octanol (2-ethylhexanol)
Molecular formula: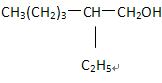 Molecular weight: 130
Production technology, product performance:
This product is the raw material of propylene and syngas in the gas, rhodium as a catalyst to generate mixed butyraldehyde, n-butyraldehyde condensation after hydrogenation, and then distillation, refined 镏 processes refined.
This product has a special smell, flammable, colorless transparent oily liquid, not water, with most organic solvents miscible, can form azeotropic compounds in water.
Name of Index

Index

High class

Firs rate

Second rate

Appearance

Transparent liquid, no suspended solids

Hazen ≤

10

10

15

Density(20℃)g/cm3

0.831~0.833

0.831~0.834

0.831~0.834

Acid value(㎎ KOH/g)% ≤

0.01

0.01

0.02

Carbonyl compound% ≤

0.05

0.10

0.02

2-ethylhexanal content % ≥

99.5

99.0

98.0

Sulfuric acid color test ≤

25

35

50

Water Content% ≤

0.10

0.20

0.20
Product use, precautions
This product is mainly used for the manufacture of o-phthalates and aliphatic dibasic acid esters of the main plasticizer and cold-tolerant auxiliary plasticizer, in the plastics industry, organic industry, printing and dyeing are widely used.
This product meets the fire, high temperature, strong oxidant burning danger.
Available galvanized iron drum or tank car dress, storage and transportation at room temperature, to prevent exposure.